Prevention and Linkage to Care Research
PrEP demonstration projects and studies focused on HIV testing and linkage to care as methods to reducing the epidemic
In 2012, we funded three collaborative projects to test and evaluate innovative approaches of two interventions intended to improve health outcomes and curb the HIV epidemic in California. Multi-disciplinary teams of investigators have since then worked to engage populations most adversely affected by HIV to provide testing and linkage to care plus antiretroviral treatment for those who are HIV positive (referred to as "TLC+"), while at-risk men who have sex with men (MSM) who are HIV negative have been offered pre-exposure prophylaxis (PrEP).
With an eye toward the essential role that PrEP will play in ending the epidemic in California, in 2015 CHRP funded two groups of grantees to initiate PrEP projects focused on women, and in 2016 CHRP funded three groups of grantees to initiate PrEP projects focused on transgender persons. 
TLC+
Our TLC+ grantees are using a wide array of methods to test for HIV and link those newly diagnosed with HIV into care, increase retention in care, reengage those who have dropped out of care, and increase viral suppression among those in care. In LA for example, our grantees have used social network testing, snowball sampling, direct recruitment and navigation to find those who are positive but not engaged in regular care and link or reengage patients in care.  They've been successful in reaching some populations that don't typically access the system. For example, in their program that uses social network referrals and direct recruitment to reengage those lost to care, a large percentage of those reached were homeless and/or had been recently incarcerated, and nearly half reported any injection drug use.   
PrEP for MSM
Through its initial demonstration project, CHRP grantees have now initiated nearly 1000 MSM on PrEP, of whom nearly 60% are MSM of color. Grantees have developed various methods to work with study participants to increase adherence – from specialized adherence counseling to individualized text-message reminder systems. Our Oakland grantees have worked hard to establish a strong link with the community – the CRUSH project has been a great success and enrolled over 100 more participants than anticipated.  Along with adherence (measured in multiple ways) and retention, our grantees are also exploring outcomes such as risk compensation, STI prevalence, and sexual satisfaction.  As participants roll off these PrEP demonstration projects, grantees are following up with them to find out who is interested in continuing to use PrEP and what barriers, if any, they are facing if they want to continue using PrEP post-study. Some early results from the LA-based project on drug levels and adherence are already available. Watch this space for more results from our PrEP for MSM grantees.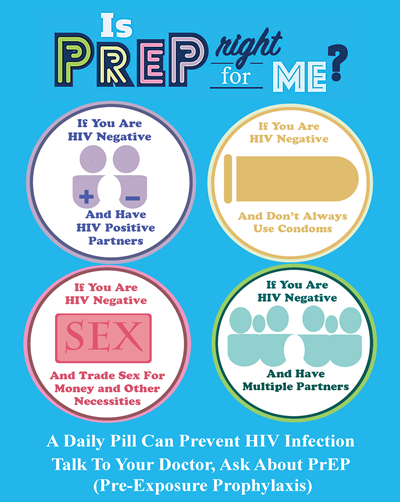 PrEP for Women
While there have been a handful of PrEP demonstration projects in the U.S., most of these have focused on enrolling men who have sex with men (MSM). While these projects have provided valuable information about PrEP uptake, adherence, and outcomes in MSM, data on PrEP use and implementation in women is lacking. Women who are candidates for PrEP face a unique set of issues. For example, research has indicated that compared to men, women taking PrEP may need to be more adherent to obtain similar levels of effectiveness in preventing HIV.  By launching the first PrEP demonstration project initiative in the U.S. to focus exclusively on women, CHRP will help to fill this gap in knowledge. 
With grants totaling $2.25 million, research teams in Los Angeles, San Diego and the San Francisco Bay Area will offer PrEP to an estimated 150 high-risk uninfected women over the next two years. Researchers will design and implement unique and targeted interventions to increase access, uptake and adherence for these at-risk women. Enrollment has started in both northern and southern California – check back here for progress updates as these studies get underway.
CHRP-FUNDED PREP PROJECTS FOR HIGH RISK POPULATIONS ARE SOME OF THE LARGEST IN THE UNITED STATES. 
Men who have sex with men (MSM), transgender persons, and women represent three populations that share a disproportionate burden of the HIV/AIDS epidemic in California.  CHRP is funding studies of these populations in Oakland, San Francisco, Los Angeles, San Diego, Long Beach, and Sacramento.

GILEAD SCIENCES HAS DONATED ALL OF THE DRUG PRODUCT (HIV PREVENTION PILL; TRUVADA®) THAT IS BEING USED IN EACH OF THE PREP DEMONSTRATION PROJECTS.